Getting to know the Authors of CFRR
Round III!
For the previous rounds, click on the images below to take you there.
Round I
Round II
And remember, getting to know the authors
will
help during the games!
Round III, here we go!
Just match the author to what they said to the following questions. (Answers will be on the bottom, after their short bios.)
Favorite Book of an author of CFRR? " 'Mark of the King' Jocelyn Green "
One item in your purse that defines you? "First aid kit. I am one of the clumsiest and accident-prone women alive."
Favorite Song? "At the moment, Masterpiece

by Nicole Coley! I can hardly wait to hear her sing and meet her in person!

"
Favorite classic book quote? " 'Oh, Time, Strength, Cash, and Patience!' – Melville, Moby Dick"
Print or Digital? "For pleasure reading, print. For research, digital. But sometimes a digital book is so good, I buy a print copy"
Left or Right? "Left. Take the road less traveled."
Regency or Edwardian? "Edwardian, of course!"
Cowboys or Gentlemen? "

Cowboys. If I need some protection in an alley at night, I'm not seeing it happen with a suited, shoe-polished, handkerchief-in-the pocket gentleman. Give me earthy and rugged every day.

"
Prince or a Frog? "Both…isn't every prince a frog and every frog a prince in some way?"
Favorite Disney Princess? " Belle! I want that library!"
Favorite name of a character in one of your books? "

Luke. It's solid, easy to pronounce, and it's my favorite name. Ever. (I can't explain it). He's not necessarily my favorite character, though.

Favorite book of the Bible. Psalms. What's not to love about the oldest hymnal/prayer book? It's got every emotion and expression of the faith, and images of Jesus are painted behind so many verses.

"
Coffee or Tea? "Coffee (STARBUCKS!)"
Favorite title of one of your books? "Conductor of Light"
Favorite name of a character in one of your books?? "Margaret Lounsbury"
Plan it or Wing it? "

Plan it. Hands down. Otherwise I'm stressed. Except if we're talking writing, then wing it.

"
(Click on their image to take you to their website)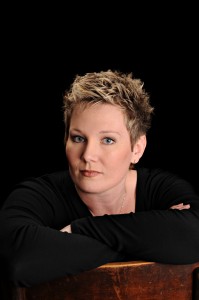 Award winning author,
Cara Luecht
, lives in Sun Prairie, Wisconsin with her husband, David, and their children. In addition to freelance writing and marketing, Cara works as an English Instructor for a local college. Cara graduated summa cum laude with a B.A. in English Literature from the University of Wisconsin and an M.F.A. in Creative Writing from Fairleigh Dickinson University. Currently, Cara is studying for her Masters in Divinity at Fuller Theological Seminary.
A native of Washington State,
Sondra Kraak
grew up playing in the rain, hammering out Chopin at the piano, and running up and down the basketball court. Now settled in the foothills of the Blue Ridge Mountains, she enjoys spending time with her husband and children, blogging about spiritual truths, and writing historical romance set in the beautiful Pacific Northwest. She delights in sharing stories that not only entertain, but nourish the soul. Her debut novel, One Plus One Equals Trouble, was an ACFW Genesis semi-finalist (2015) and the winner of the Blue Ridge Mountains Christian Writers Conference Unpublished Women's Fiction Award (2015).
Carrie Turansky
is an award-winning author of more than a dozen novels and novellas. She has been the winner of the ACFW Carol Award, the Crystal Globe Award, and the International Digital Award, and a finalist for the Inspirational Readers Choice Award and the Maggie Award of Excellence. A prolific writer of contemporary and historical romance, women's fiction, short stories, articles, and devotionals, Carrie lives in central New Jersey with her husband Scott. They have five adult children and four grandchildren.
Rachel McMillan
is a keen history enthusiast and a lifelong bibliophile. When not writing or reading, she can most often be found drinking tea and watching British miniseries. Rachel lives in bustling Toronto, where she works in educational publishing and pursues her passion for art, literature, music, and theater.
Rachel L Miller
writes sweet Amish romance with a focus on faith, family and friendship.
Yes, Rachel L Miller is her real name and though she is not Amish, she feel a deep kinship with the plain people because our family chooses to live a simpler lifestyle – much as they do.
God has led her to write Amish fiction and she love the simplicity of Amish life. Her hope is that the purity of the stories will allow God's message to shine through more clearly.
Rachel also writes Contemporary Inspirational Romance - and with those stories she try to focus on presenting romance the way God intended it to be.
1. D, 2. E, 3. E, 4. A, 5. A, 6. C, 7.C, 8.B, 9. A, 10. E, 11. B, 12. D, 13. D, 14. C, 15.B